Siemens innovation DNA shines via real-world projects at company's annual U.S. technology conference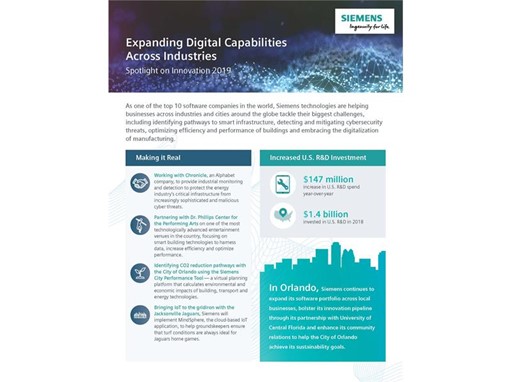 Projects and technologies featured at Spotlight on Innovation in Orlando span digital twins for the naval shipbuilding industry to cloud-based sensors improving football turf conditions
Company's innovation agenda spurred by 11 percent increase in its R&D investment year-over-year
Today, Siemens hosts its flagship U.S. technology and innovation conference, Spotlight on Innovation, at the Dr. Phillips Center for the Performing Arts in Orlando, Florida. The event features real-world technologies across manufacturing, cyber security, IoT, city infrastructure, Al and the digital twin that are helping businesses and cities around the world unlock their potential.
These technologies, and others across the company's broad portfolio, are a result of Siemens' commitment to innovation, a strategy that has allowed the centuries old organization to transform itself into one of the world's top 10 software companies. At the event, Siemens announced it continues to grow its R&D investment, now reaching $1.4 billion in the U.S. annually. This 11 percent increase year-over-year is reflected in advanced technology research out of the company's Corporate Technology arm, based in Princeton, NJ, and its R&D hubs located across the U.S. including a digital service center for building technologies in Austin, TX, and eight of its U.S. MindSphere Application Centers.
Siemens is hosting this year's event in Orlando, a major employment hub and technology partner for the company. Siemens continues to expand its work with Orlando-based businesses like BRIDG, a local Kissimmee semiconductor manufacturer using Siemens digital twin technology to modernize their operations. The company is also expanding its smart building technology partnership with host venue the Dr. Phillips Center for the Performing Arts which will use Siemens smart building technology to harness data created in the state-of-the-art facility, making it one of the most technologically advanced entertainment venues in the U.S. Siemens continues to bolster its innovation pipeline with University of Central Florida and provide digital planning tools to the City of Orlando to help achieve its sustainability goals. The company has more than 4,000 employees in the region across 14 facilities, including one of its MindSphere Application Centers, the Siemens Gamesa Wind Service Training Center, and its Energy Hub.
"As a top 10 software company, Siemens is committed to developing next- generation technologies and investing in R&D and workforce development," said Barbara Humpton, CEO of Siemens USA. "By extending and advancing our digital capabilities across all industries, we will continue to strengthen our position as a technology leader in helping cities and companies improve their bottom line while making a positive impact on society."
Today's conference features companies that are working with Siemens to embrace the new digital revolution and elevate what's humanly possible. In partnership with Siemens, Alphabet off-shoot Chronicle is finding ways to identify and protect against cyber threats to our energy systems.  With Siemens software, Hackrod, a startup aiming to advance hot rod design, is leveraging the gamification of engineering to create full-scale cars and validate performance with simulations on a computer. Newport News Shipbuilding relies on Siemens digital twin software to digitalize its manufacturing operations so it can more efficiently build mission-critical nuclear- powered U.S. naval carriers. Siemens is the only company in the world that can create complete digital twins of products and all factory processes.  And the Jacksonville Jaguars are putting IoT to work by using Siemens MindSphere cloud- based platform to monitor and improve their field conditions.
Join the conversation around Siemens Spotlight on Innovation event on social media with #SiemensInnovates and access this press release, press pictures, and other media materials via the Spotlight on Innovation news site.
Contacts
Annie Satow

Media Inquiries

United States

202-316-0219

Alexander Becker

Media Inquiries

United States

becker.alexander@siemens.com

202 215 9010
More from Featured Multimedia Stories
SUBSCRIBE TO RSS FEED
XML