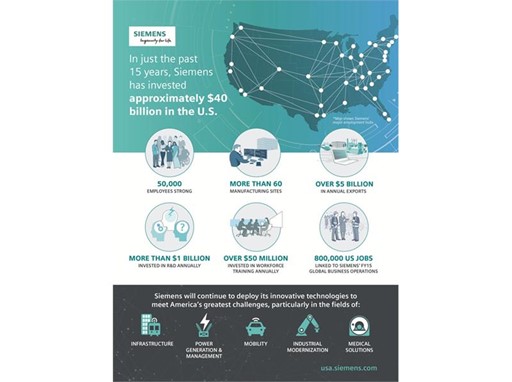 Siemens USA is a U.S. subsidiary of Siemens AG, a global technology powerhouse that has stood for engineering excellence, innovation, quality, reliability and internationality for nearly 170 years.
The company is using its global leadership in engineering and technology innovation to meet America's toughest challenges. From efficient power generation to digital factories, from wellhead to thermostat, and from medical diagnostics to locomotives and light rail vehicles, Siemens in the United States delivers solutions for industry, hospitals, utilities, cities and manufacturers. Siemens' next-generation software is used in every phase of product development, enabling manufacturers to optimize and customize equipment that touches American lives every day.
Siemens has been in the U.S. for more than 160 years and it is now the company's largest market. In just the past 15 years, Siemens has invested approximately $40 billion in America. Most recently, Siemens expanded its digital industrial leadership with the acquisition of Oregon-based software company, Mentor Graphics.
U.S. Fast Facts FY2016*

Revenue

(direct business)

$23.7 billion (including $5.4 billion in exports)

New Orders

(direct business)

$24.4 billion

Employees**

50,000

R&D Expenditures

$1.11 billion

R&D Employees**

5,700

Manufacturing Sites

More than 60

* All data reported as "Continuing Operations"

** Number of employees is approximate
With 351,000 employees in more than 190 countries, Siemens reported worldwide revenue of approximately $88.1 billion in fiscal 2016. Siemens in the U.S. reported revenue of $23.7 billion, including $5.4 billion in exports, and employs approximately 50,000 people throughout all 50 states and Puerto Rico.
Siemens is home to more than 60 manufacturing sites in the U.S. The company invests more than $1 billion in R&D annually and more than $50 million in job training programs. 
For Siemens, the U.S. is also an extremely vital production location, one of the most important research centers, and a key base from which Siemens exports globally. 
Contacts
Brie Sachse

Siemens USA

United States

202-730-1013
More from Featured Multimedia Stories
SUBSCRIBE TO RSS FEED
XML